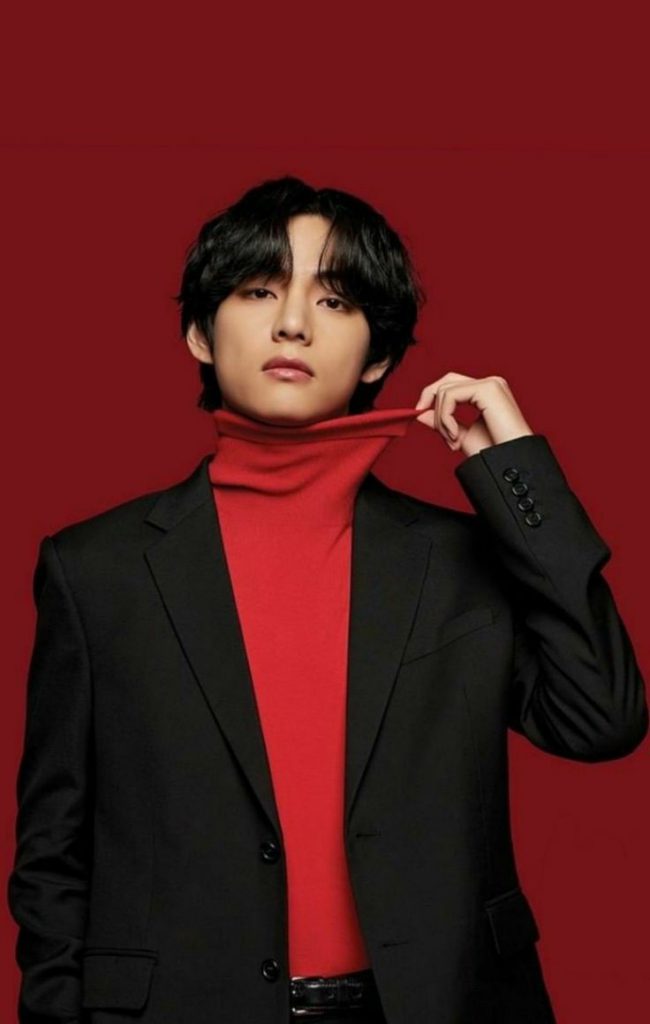 KIM TAEHYUNG
Stage Name: V
Real Name: Kim Taehyung (김태형)
Position: Lead Vocalist,
Birth Day: December 30, 1995
Zodiac Sign: Capricorn
Birth Place: Daegu
Height: 178 cm (5'10")
Weight: 62 kg (137 lbs)
Blood Type: AB
Family: Parents, Younger Sister and Younger Brother
Hobbies: Searching for music that no one listen to, going on the computer
V's Spotify List: V's Join Me
FUN FACTS ABOUT V
V was born in Daegu but later moved to Geochang where he spent his life until he come to Seoul.
Education: Korean Arts High School, currently enrolled in Global University for MBA in Advertising & Media in September 2020.
He is the lead vocalist of the group.
He was the sixth member of BTS.
His favorite number is 10 and favorite color is Grey.
He can speak Japanese very well but can't speak Chinese.
He has 4d personality he has a personality of mood makers in BTS along with Jhope and jin.
He can't tolerate spicy food.
After Namjoon, Taehyung is the most intelligent person of the group.
Taehyung is the most "Handsome Man" in the world.
He is Ambidextrous (he can write his both hands).
He has one monolid and one double eyelid.
He can dance in high heels too.
He feels uncomfortable in shoes he likes sleepers he get off his shoes.
Taehyung currently owns three dogs with his family named Soonshim, Ssyongssyong, and Yeontan. Yeontan (Breed- Pomeranian) lives with V.
V has lots of nick names like 'Tae Tae' his friends call him 'Tae Tae' because it's easy to say, 'Blank face' because he always have a blank expression, 'Gucci Boy' because he love wearing anything from Gucci, 'V' his stage name refers victory.
For him his super hero is his dad he wants to be like his dad someone who take care his family.
Taehyung has a habit to sleep with something to hug such as a pillow or member.
Taehyung said he feels handsome when he walks down the street and everybody stops to him though they don't know him. (Yeah Most Handsome Man's charm)
Taehyung said that he would like to spent his last day of life with Jungkook.
He loves classical music a lot and he always play classical music when he sleeps.
He has a hobby to collecting ties and has good collection.
V acted in the korean drama "Hwarang"(2016-2017).
He has been showing interest in photography laterly.
V said the three requirements for his happiness are family health and honor.
His favorite artist is "Eric Benét".
Tae dated every girl who asked him out in school because he didn't want to say no to anyone.
The first thing he notice in a girl is the brand of her clothes.
Taehyung wants a girl with innocent eyes.
Taehyung said "we don't like girl group we wanna marry army. (congrats army maybe we have future).
V's ideal date "Amusement park or nearby park and nice to holding hands.
His ideal type is someone who takes care of him and love only him and who has a lot of Aegyo(cuteness).
Taehyung wants 5 kids four boys and one girl if there is no time then he want three kids two boys and one girl. (good luck for Tae's future wife).
According to Jin, V is the noisiest member and Jungkook said he and V has same personality.
Taehyung's Motto: "I just came up with it but let's live coolly to the maximum. Since life happens only once, wake up at ease in the morning and work doing your best".